An Interview with Blaze (USA/96)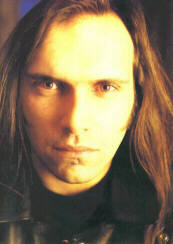 Interview with Blaze Bayley of Iron Maiden 2/15/96 by Sumit Chandra This interview was made possible by the kind assistance of Mazur Public Relations, Concrete Management, and WKNC-FM in Raleigh, NC. It is the 1st of 3 installments that includes this interview, a tour report for the time period of 2/19/96 through 2/27/96, and an interview with Steve Harris.
Q: How have things been going on the US portion of the tour?
A: Very good. We've received good reactions and the shows have been well attended. It's been a mix of both new fans and older fans that have been into the band for some time. We're also playing venues that we haven't played before, and we're having an excellent time thus far.
Q: The X-Factor took a long time to record in comparison to other Iron Maiden albums, in fact it took over an year to finish the album. Can you comment on some of the factors surrounding this, and how that's impacted the overall sound of the album.
A: One component of it was that nothing was written for the album before I joined the band. So one thing was we waited to write the material until I had joined the band, and we took our times and wrote the best songs we could. Then when we got to recording, we went for a vibe thing where we were trying to make sure that each track had a mood and feel of it's own, and we put in the time to insure that this happened. Another factor was that this was the first album Steve Harris had produced with Nigel Green. We also had some technical difficulties along the way that cost us a couple of weeks. Additionally, we recorded over 80 minutes of music for the album, and when you go through the mixing process, it adds additional time to the effort. Also, we had a new sound now with the new singer. Overall, it was the first album that we had done together as a band, and we wanted to take the time to make it as right as it could be. So we kept on pushing to make it the best we could, and we're all happy with the result.
Q: You've contributed to the song writing effort from the get go with Iron Maiden which is unlike when for example, Bruce Dickinson joined the band. Can you talk a little bit about how the song writing process works for you, and how it works when you're collaborating with other members of the band?
A: Basically I like to collaborate with other people. Generally, I've got an idea for a lyric or melody that I want to get across. You bring this idea to everybody and see how it works out. Janick also does the same thing as far as bringing ideas to the group. When Steve gets an idea, then he likes to get the whole thing finished and then bring it to rehearsal and work on the arrangements. That's great and it's really enjoyable to sing those songs, because they have a really unique feel that only Steve can get, and it brings out a part of my voice that I would normally not get to.
Q: So this has definitely helped you as a vocalist?
A: I've learned a lot and my voice has really improved, and it needed to for the album. And this is the longest I've ever been on tour. They said the tour would last 9 months, and I don't think I've ever been on tour for more than 9 weeks before.
Q: So that's almost a pregnancy then?
A: (laughing) Yeah, you're right there! It is a pregnancy, and God knows what the child will be like at the end of it all.
Q: Talk about the age difference within the band, with you being a bit younger than the rest in comparison. How has that impacted the dynamics within the group and the overall sound?
A: It's difficult for me to say that, cause obviously it's how everybody else reacts to me, but what's great for me is that everybody is laid back. There's so much experience in the band, and everyone has done so much together. So it's great to have that kind of experience to fall back on. You get to use all your enthusiasm, the show comes first, and nobody gets worried or wound up about things. If you've got a problem then you go ahead and solve it, or if you're in a situation then you go ahead and make the best of it. It's great cause everybody can just relax and concentrate on the music, and that's the most important thing at the end of the day. As far as me being a bit younger, and everyone else being a bit older, a lot of places that we've played, it's the first time I've played there. It's really exciting and I'm really enjoying being on tour. I didn't think that I would get to this stage of the tour and still be thinking that "I'm really looking forward to tonight". It still feels like we're in the first week of the tour, though we're a few months in now. We started in September, and even now when we go on, it's like "Oh God, I hope we get this one right and there's no problems with the sound, etc." It's really great, and every night is exciting and the fans that we play to give us so much encouragement. Everywhere we go, it's just incredible. It's just a really great time, except for a few times between gigs, when you've got to go to the next city, and things go slightly wrong.
Q: Talk about the themes addressed on the X-Factor. Most of it is pretty dark and gloomy. Can you talk about what type of atmosphere contributed to that being the major theme the album ended up having?
A: I think it was what going on around all of us I suppose. There was a lot of changes for everybody in their lives and I think it was just coincidence that things worked out that way. Certainly there was big change for me to go from Wolfesbane into a major band like Maiden and do an album that a lot of people were going to buy. Also, everybody was going through a bit of soul searching at the time, as far as what was happening in music, and what was going to happen to the band with a new singer, and how it was all going to work out. There was also a lot of things on the TV, like the war in the former Yugoslavia. It was a time when everybody felt that we were going to dig in and make this record happen. I think we all drew on the dark sides within ourselves and the dark side of the human spirit, and used that dark energy in a positive way. In that way it's worked out really well. It is a record that takes a couple of listens really, you've got to give it time, because it's a long record, and it's a bit darker, which makes it a little bit more difficult to get into, rather than if there were a couple of lighter numbers to break things up. It's pretty intense and moody really for the most part.
Q: You're now associated with CMC International, and you've also re-released the old albums with bonus discs. Can you talk a little bit about the label switch and the reason for the re-releases of the albums.
A: Maiden were out of a deal and CMC really wanted Maiden to go with them. I think they've stuck with what Heavy Rock is all about. They're not trying to get the bands to write commercial hits, or trying to get the bands to tone down or soften up in anyway. And it's good to be with a label that's like that. They're very enthusiastic about the band and the new record, so that's been a really good move. The main reason for bringing out the back catalog with all the b-sides is so that everything is on the same standard of quality, and everything's been remastered for release on CD.
Q: It also turns out to be a good deal for the fans in that they get basically more music for the same price or even less.
A: It's especially a good deal for the fans who've originally got the music on cassette and have either worn it out or lost it.
Q: The next Maiden single is "Lord of the Flies", and the b-sides are "My Generation" (the Who song) and "Doctor Doctor" (the UFO song). Can you talk a little bit about where the band gets ideas for the cover songs they do?
A: I used to do "My Generation" with Wolfesbane, so I knew that one which made it fairly easy. We just strolled through Steve's record collection, as the studio is on the side of his house, and just looked to see what we knew, and then took some time in the studio and knocked them out. So it was a bit of fun really. I don't know what we'll do next time, but I'll try to think of some interesting ones before we get there and see if we can have a go at them.
Q: Are there any other songs from the X-Factor sessions that have still not appeared on the b-sides of the singles that we might see down the road?
A: I'm not sure if we've used them all. I know that the Japanese one has everything on it in a double CD set, including Judgment Day, Justice of the Peace, I live my Way. Those are also on the b-sides of the Man on the Edge singles in the UK.
Q: What are some of the support acts that you have had on the current tour, and how does the band go about choosing these?
A: We had a couple of local bands at the start of the tour, and then we had My Dying Bride through most of Europe. Then after Christmas we had a band called Dirty Deeds. They're really good and they're doing an album now which they're financing themselves, and then they're going to try and get a deal with it. It's really who's around and could use the exposure, and wouldn't normally get a chance to play in front of those people, and can actually afford to do it as well, because it's really expensive to go on tour. My Dying Bride was good because they're kind of a doomy band, and they've got a lot of melody and quite a unique sound. In North America, we have Fear Factory. Fear Factory is really an exciting kind of paradox because you have two bands who are both heavy, they're a bit sharper while Maiden is a bit more majestic. I think the two bands show well against each other, I think some things that Maiden have got, Fear Factory has got and vice versa, so it's a pretty good package with two different bands that makes for a good night out.
Q: Can you give an overview of where the band has been on the current tour, what is still left, and if there is any possibility of Iron Maiden appearing at some of the summer festivals in Europe, and maybe Donington?
A: I don't know about Donington. I don't know if we are or not, I don't even know if there is going to be a Donington festival, you probably know as much about that as I do. I think there might be a possibility of doing some of the dates in the summer festivals in Europe. I'd love to do that because I've never done any of those festivals apart from Aardshock quite a few years ago, opening up for Queensryche. It would be great if we could get some of those. So far on this tour, we started off in Israel, then South Africa. In Europe, we started off in Athens, and did Eastern Europe, Scandinavia, Spain, Italy, France, and basically went all over. Then we did the UK and we finished with our last date in Europe at Nottingham Rock City which is the longest running club in the UK that still plays hard rock. We thought it'd be a great time and it was crammed and absolutely packed, and it was great. Then we came to Canada, and all the shows were sold out. Playing in Quebec and Montreal was fantastic, I can still remember a little bit of French. So far the US shows have been great as well. It's gone really well, and we're having a great time. Seems to be a lot of new fans at the shows as well as people that have supported the band for a long-time. Really Maiden are underground. There's no Headbanger's Ball, and Maiden's not really on the mainstream radio, so the best place to find out about Maiden is at a concert, which is what it's all about. Taking things a step further into the future, the most interactive form of entertainment that you'll be getting will be going to a rock show, and Maiden are the kind of band that say come and watch us and see how good we are, and just encourages everyone to have a good time and enjoy the music together.
Q: How would you describe your stage presence to someone that is preparing to go see the band? Also, what can we expect overall.
A: I don't know, it's kind of difficult to describe. I think we just tend to go flat out and I just get carried away with the music really. I'm just the same as anybody else, the music is the most important thing, I love being in the band and singing the music, and being on stage with the huge sounding guitars, bass, and drums behind me. It's just fantastic and I get wrapped up and involved in that. I run about as much as I can without going out of tune (laughing), and getting out of breath and singing flat.
Q: Most of the general public associates glamour with being on the road as a rock band. Could you comment on some of the harsh realities of it. For example, how your days off are packed with interviews and other commitments.
A: (laughing) Day off! Wrong! In-store in Paris. Day off! Wrong! Interviews all day. Day off! Wrong! MTV Most Wanted Live in Europe. You don't really know what's coming up, you can plan a little bit, but there's always things going on. Another challenge in some European countries is that things close at 3pm after lunch, and you can't get hot food until 730pm. If we're going on about 9, then we like to finish eating by 6, so we have time for our dinner to go down. We like to get in one hot meal a day, and all you can get between 3pm and 730 is a toasted sandwich, so we end up trolling through the streets of the city for a McDonalds or a KFC or any other junk food place that is open and will serve us some hot food, no matter what it is. That's one of the harsh realities. I brought my girlfriend out, after we did Hungary, for a few days, and she was looking forward to coming out for a few days with me, and at the end of it, she was going "I'm so tired and I just want to go home" (laughing) because we were driving over all these roads in Eastern Europe through the mountains, etc. It was quite mad. But it's quite fun, we have a great time, and we just laugh when things go wrong, instead of getting fed up about it or moaning, because that won't make it any better.
Q: You've played all over the world, and there are associated cultural differences. Can you talk about the differences in the audience reactions that stick out in your mind?
A: In Greece they were unexpectedly mad, it was great, we had the number one album in Greece while we were playing there, and it was just awesomely fantastic. In France, it just feels like you're in the coolest band ever. Maiden are really well thought of in France. The French are the loudest singers, especially on Fear of the Dark. It's interesting in that we play about the same set everywhere, and different places react differently to different portions of the set. The Germans are very polite and laid-back, but go crazy at the end. The Spanish are crazy all the way through and a bit flat at the end. Everywhere we've been, its been quite brilliant.
Q: What are the band's immediate plans as far as singles, videos, etc.?
A: Lord of the Flies has just come out and we just finished doing a video for that, which was done by the Dead Sea in Israel. We still have a long way to go with the tour. After the US, we have a few days off, before we go to Japan, Australia, and New Zealand. And then we're looking at Hong Kong and Southeast Asia as well. We're also trying to get a gig in India, but that doesn't look like it'll work out on this tour. We wanna try to go everywhere. The only thing that stops us is the government not wanting Maiden, or if the promoters aren't really there. This is the first time that Maiden has been in Romania, Bulgaria, Israel, and South Africa. It doesn't look like India will work out on this tour, but perhaps on the next tour we can do India and China and places like that. We're also trying to get a concert in Hong Kong before 1997. The tour is supposed to end in May, but I don't know. It's gone really well, and a lot of fans like the band and the new record, and a lot of fans have come to see us, and everybody wants to talk to us. It's been really great, and who knows maybe it'll never end!
Q: The band has created a homepage on the internet, and you keep a diary for the tour. How does the band plan to use the internet in the future?
A: I've got a write-up for this piece of the tour, and I try to keep that updated when I get some free time on the tour. I've posted the write-up for the German tour that I did. We would like to keep it updated on a regular basis, so we can keep the fans updated on news. It's definitely the early days for the band using the 'net', and something that we've just gotten into. I think we definitely are looking to expand our scope and involvement in the future.
Q: Is there any truth to the rumor about an X-Factor CD-ROM?
A: I don't know, there's some CD-ROM idea floating about, but I'm not quite sure what's happening there.
Q: Have you had a chance to play football with the Iron Maiden XI? Would you care to comment on your football prowess in comparison to the other members of the band?
A: On this tour I haven't with all the schedules and commitments, but I did when I was with Wolfesbane. As far as my football prowess, (laughing) it's rubbish. I make a much better singer than a football player.
Q: What is your favorite football team, and what is your favorite beer, and have you been able to get a consistent supply on the tour?
A: Aston Villa. Guinness or Murphy, or most black beer. I don't drink much beer on tour, you just can't, your voice just goes. To me, the most miserable feeling in the world is when you're on stage and thinking "Oh my God, it's so difficult to sing this bit, if only I hadn't had those extra beers". I love playing, and singing live. I really love drinking beer, but I don't love it as much as playing live, and singing the songs, and the feeling I get when we're doing really well and the fans are really enjoying it.
Q: Where do you see yourself and the band in the year 2000 and 10 to 15 years down the road?
A: In the year 2000, fashions will have changed so much, that we'll be on top of the charts across the world with some incredible heavy rock song that we've written. Heavy rock is slightly decadent, and because the end of the century always attracts decadence, no matter which century it is. It is ideally suited for Maiden, and the soundtrack for the next century, may as well be Iron Maiden to kick it off. The whole vibe that we get from this album is that it's a good record, and a good first step, and hopefully we'll be making a lot of records, and enjoying ourselves playing live around the world and in the studio. That's where I see it going!
---