AYRTON SENNA

Thoughts
Par Cédric / QueST

"Racing, competing, its in my blood, its part of me, its part of my life, I've been doing it during all my life and it stands up before anything else..."
" The race, the competition, it is in my blood, it is a part of me, it is a part of my life, I made it all my life and it comes before all something else...
Ayrton Senna Da Silva
---

Homage to Ayrton: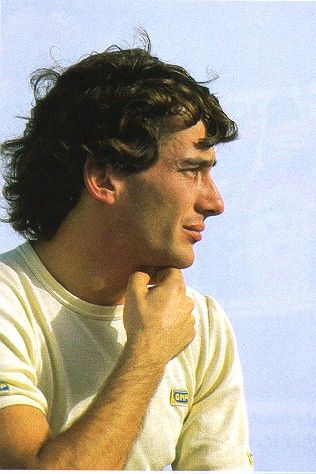 Ayrton Senna is without possible dispute the best pilot of all times. He/it marked the world of the Formula 1 forever, as well by his/her/its attitude that by his/her/its prowesses. Because, in addition to be a genius of the piloting, this appreciable and intelligent man liked to think on him and on them others. His/her/its (too rare) interviews put in evidence a man gnawed by the passion of the automotive sport, meticulous to him extreme and perfectly conscious of his/her/its irretrievable choices; one alone hello: the flight forward!
Fascinated and violent, such was Ayrton: a rage to defeat inexhaustible, a need almost vital to win to prove to them others as well as to him even that he/it was the better; but a pilot so fascinating! This brilliant and mystical pilot must be an example for all: " Magic Senna " said the very true things, that go beyond even of the small world of the automotive sport. One can even say that his/her/its philosophy is a hymn to the overtaking of one, until him extreme limits. It is necessary to know tutoyer limits it, to deride it, to master it... for the simple pleasure to make it.
If I like Ayrton, it is for several reasons. Certainly, it is very evidently his/her/its immense talent, to the limit of the occult, that forces my admiration. But, in fact, what fascinates me the more at home that is, I believe, his/her/its lucidity facing the world and especially his/her/its philosophy: we even have the. I am meticulous, an eternal unsatisfied; I always want more, still better! It is sickly! To such point that I perfectly find again in words of Ayrton; they appear me so familiar... I would have wanted to be pilot of Formula 1: it will remain, I think, my bigger regret...
Also, to give back homage to Ayrton, what of better than to recall some of his/her/its more beautiful sentences?
Cédric / QueST
---

" Very young, I had a first contact with the mechanical things. In the occurrence, a go-cart. Very quickly, this go-cart became a part of myself. That that, to the departure, was only a passion, became gradually, a necessity. To live ".
10 May 1986

" I had a goal and I learned to reach him how. To become champion of the world was my very big desire. I fought to arrive there. I lived with. Every day. Nevertheless, I always fight for the title, this year. Because once, this is not enough. After, you need some again " of others.
30 September 1989

" One day, I cannot go farther that that (he/it points his/her/its index under his/her/its throat); I am stuck, I am not able to anything there, I don't have no means of compensation, nothing. To surmount the obstacle, it is necessary to pay for the price of it. And he/it is raised! Before certain shoppings, I would not have believed myself capable to make what I made "
9 November 1991

" I won in Brazil with only one speed functioning again in the last seven towers. For it, I drew to the bottom of myself. To the bottom of my resources (...) To the physical suffering price to the limit of the tolerable ".
9 November 1991

" When I don't win anymore, I feel blocked, shut in completely (...) as a tiger in cage ".
23 October 1993

" The day is again far or I will say: ' Ayrton, you benefitted your potential. That is there, you reached him (...) '. Maybe one only has reaches a similar moment when one died. But maybe same not again. "
23 October 1993

" A pilot must understand and must appreciate all data (...) It is the result of the experience, the concentration and the instantaneous emotion. "
19 October 1987

" More I learn on my motor, more I can help motoristeses. And more I help them, more it permits me to learn ".
30 October 1989

" My profession procures me a crowd of emotions. They are the reflection of the love that I carry to the race, they are also my main incentive ".
30 October 1989

" Everything that is repetitive is tiresome. Therefore, it is necessary to evolve, to change. To change his/her/its way to work, to pilot, to land shoppings. It is necessary to be creative, for oneself in the first place ".
9 November 1991

" More one advances in his/her/its career, more progress are a matter for the detail. At the level that is mine, I continue to look for my limits ".
9 November 1991

" It makes part of my profession to give the impression that I win easily ".
9 November 1991

" When I speak to engineers and mechanics (...), I speak with eyes, hands and I have my emotions that are so numerous and so strong shared. I want to express happiness and frustration in their real measure. I want that people that work on the car feel implied, to the point to feel the same thing that me ".
9 November 1991

" It is mad what one can feel under the effect of the speed: what I live in a car of race, I ever felt either it approached elsewhere ".
10 May 1986

" The security is of course one worries for me, but it is good or bad for all ".
29 November 1988

" How your sensitivity to stimulate, your feeling days where you feel that you are not to best? It is there all the game. Sincerely I don't have an answer. It is natural, it is in me I believe ".
30 September 1989

" In Monaco in 1988, I beat and hackneyed my own time, I achieved that I had arrived to a level of concentration as the car and I only made one. Together we were to the maximum. I gave all to the car, she/it gave me just as (...) When I took conscience of this extreme concentration state, I stopped. I went in in stands. There, I achieved that I had left in a spiral that would never have been able to finish. Still more quickly, still nearer of the perfection... But as still more vulnerable, because the margin of security decreased to the thread of towers. More I improved, less I had right to the mistake... This day of 1988 serves me henceforth of reference to every new sitting of qualification. I know it, I experimented " her.
24 November 1990

" The overtaking of one takes all his/her/its sense, in the cockpit of a race car. To go farther, more close to limits of the machine and the man, a pilot owes all to give: his/her/its heart, his/her/its body, his/her/its head ".
24 November 1990

" What we risk all on the track. The fragility of life, in general, I know it. One doesn't need to have an accident, nor to make a dangerous profession, to either be wounded menaced in his/her/its physical integrity. One runs the same risk with the illness (...) All can arrive, every day, to whoever ".
24 November 1990

" Sometimes I would wish that there are people that can look at us in eyes when we pilot (...) The look unveils the pilot (...) I would even like indeed myself to be able to look at my own eyes during the race ".
23 October 1993

There is the car... I slip myself in, as if I put a coat. I nearly get dressed of the car ".
23 October 1993

(...) I am there, in the present, but at the same time I am farther that myself, farther than the reality. I am in the future ".
23 November 1993

" I live again. It is a success among others ".
23 October 1993

" I am incapable to renounce. Sometimes, it would be better ".
23 October 1993

" I feel the odor of brakes heated to the red in tip of right line, I clearly hear sounds and noises of the motor; I can feel all vibrations, in the wheel, the frame, the bodywork. I feel turbulences around my helmet. All these things arrive me at the same time, and yet I can feel them separately and record them. It is a sensation extraordinary to absolutely understand everything that happens on board, and to be able to act to either react according to that ".
9 November 1991

" The desire to defeat brings closer us (with Prost). What moves away us, it is maybe the same thing...
2 July 1988

" He/it is nearly impossible to live reports that bind you to those that even have the objective quietly than you. With Mansell, we had duels in track that rebounded out of the track. But it is the competition ".
10 May 1986

" The Formula 1 is not the best place to make itself/themselves of friends ".
2 July 1988

" For me, the big challenge, it is to always find better solutions that them others. I want to be capable to make better than anyone ".
30 September 1989

" My tougher adversaries? Difficult to say. In fact, to every stage of my career I had in front of me a Mansell, a Prost or an Ayrton. My adversary principal, the one that never sets free me and that motivates me at the same time, it is my irrepressible desire to win and to evolve ".
9 November 1991

" Whatever is conditions, I must give the better. The pleasure doesn't intervene to this moment it, it is especially the research of competitiveness that motivates ".
2 July 1988

" The first pole of my career to Portugal is among those that let me the strongest memories. And all those that I signed in Brazil because they brought me a lot of pleasure and of emotions. And Monza this year (...) no one expected to see to dislodge me the Ferrari. Yet I arrived there. It was a very strong moment, of a rare intensity,: I gave everything for this pole (...). Morally, a fundamental " turn.
24 November 1990

" Her Pole, it is a sprint (...). The pilot must make call to all his/her/its qualities: experience, the instinct, aggressiveness, the calculation... And he/it carries them to an extremely elevated level... He/it would be impossible to pilot the way during a Big Price. To run for her Pole, it is the top of tops! I like that ".
24 November 1990

" I consider that we make a difficult and very demanding profession to a lot of points of view. A pilot's salary, it is especially the recognition of his/her/its talent ".
2 July 1988

" I don't run to have a picture, not more that I don't run for money. I run because I like to pilot (...). Of the stroke, that hardly let me the time to think about my picture. I am ready to pay for the price " of it.
24 November 1990

" Today I am triple champion of the world. I believe that I acquired a certain credibility (...) However, to lose it, this credibility, he/it is sufficient of one instant ".
9 November 1991

" When I see that people are ready to rise to dawns to see to run on TV me, or that they are night the feast because I won, I tell myself that I am not worth this mobilization. I don't have the impression to be really what people wait for me. I feel so normal ".
9 November 1991

" For me it is more and more important to learn. To teach God, to understand God's strength, to learn the faith. But I am to the beginning of my research only. It will be a long research ".
30 September 1989

" I have a way by force that comes closer of God ".
30 September 1989

" In fact, everything that I have today, everything that I follow, as pilot of race and as man, it is my family's that I must " it.
29 October 1988

" He/it happens to me to either cry to be moved in public... I am thus. I am emotional, I was born and I grew like that. I thank God of it, because life without emotion and sense " doesn't have without love.
24 November 1990

" Some, I feel it, like me; of others, and that I feel it very intensely, hate me. It is very difficult to find my balanc n;tŘis mirror of feelings. And finally all it drives to what I live more and more lone " manner.
23 October 1993

" I am unaware of what I will make the day or I will stop the F1. But I see myself pain sporty commentator or team manager. In fact, the better of the F1, it is thE ¨i;o°ing ".
24 November 1990

" I would like to fly like a bird ".
23 October 1993
---
Adeus Ayrton
---