Remembering Ayrton...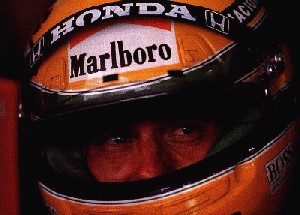 In The Beginning...

Ayrtons first driving was in a kart, at the age of 4 ! His father, who owned and ran a large car parts factory, built the cart for him, and he drove it round the garden and parks of Sao Paulo. Slightly later on in life he would drive his fathers jeep, but the clutch was too difficult for him to push, so he would just judge the gear-changes by the tone of the engine and the whine of the gearbox.

By the time he was ten he had a more powerful kart. He was not allowed to compete yet though - the minimum age was thirteen. He practiced though, and at the age of thirteen began to compete at the Interlagos track where professional kart-racing took place. Senna won the Brazilian title four times, and in 1977 in the 100cc catagory he won the South American title. This was to be the first of many titles, in many catagories.
---
Kart Racing

In 1978, at the age of eighteen, Senna headed for Europe. He knew that this was the heart of world motorsport. There was some racing in America, but they did not attract the worldwide audience that could be reached by heading for Europe.

His first call was at the DAP kart factory in Milan. He had booked a seasons racing, because at this level you had to pay to race if you were not well known. He also tested karts at the international kart track at Parma. It was on the karting circuit that Ayrton met Mauricio and Stella Gugelmin, who became his closest friends while away from Brazil. Mauricio helped Senna in those early years by transporting his kart in his own sponsors lorry. In his first year Ayrton came sixth in the championships. He tried again in 1979 but was unsuccessful, mainly due to a lack of testing time and hence not having the best setup for a race.

He would have one last try at the title in 1980, but still he only managed to finish second. Now twenty years of age, he was nearing the top of the karting world; He could either stay in the hope of becoming champion, or he could move up to higher catagories, such as FF1600, FF2000, and F3. However, his father wasnted him to run the factory, so Ayrton returned to Brazil and went to business school in Sao Paulo.
---
Formula Ford 1600

In the spring of 1981 Senna returned to Europe. His father had realised that he would only be happy if he was racing. Ayrton headed for Snetterton in Norfolk in the hope of getting a Formula Ford 1600 drive for the season. He got a drive with the Van Deiman FF1600 team, largely paid for by his father, although at first Ayrton was driving a 1980 car because there were no 1981 cars free, and Ralph Firmin didn't realise the prodigy that he had discovered. In his first race Ayrton started from the middle of the grid, and finished fifth. In the second race, one week later, he came home third, and the following week at Brands Hatch in the wet Senna won his first FF1600 race.

Shortly after this, Dennis Rushen (a Van Deiman FF2000 team boss) saw Senna racing in the wet and offered him a European FF2000 season for £10,000. He won the RAC and Townsend Thoresen FF1600 titles in 1981.
---
Formula Ford 2000

Ayrton was expected to return to drive in Formula 3 in 1982, but he announced that he would be returning to Brazil to work for his father. A lack of coverage of Formula Ford meant that he could not find a sponsor for the year, despite his string of victories.

So, from October 1981 until February 1982 Ayrton worked in his fathers factory in Brazil. His father finally agreed to invest in his racing career on the understanding that he would pay the investment back. Senna returned to England for the start of the season. He didn't bother with the familierisation sessions, he simply jumped into the car, and, after a brief lesson on slick tyres and wings, started going faster than anyone else.

Ayrton was soon offered sponsored Formula 3 drives for the 1983 season, by both Toleman and McLaren, but amazingly he turned them down. He felt that he "still needed to learn the ropes, and complete his apprenticship thoroughly" before he could allow himself to progress. He didn't want to enter Formula 1 until he was sure he could be chamion, but nevertheless the offers still flowed in; Williams and Lotus both made offers. In 1982 he won the FF2000 series with Rushen Green Racing.

At the end of the year Ayrton had his first taste of Formula 3. He drove a West Surrey Racing car at Thruxton, took pole, and then won by thirteen seconds. In January 1983 he signed for West Surrey Racing for the season.
---
Formula 3

Ayrton spent the entire season dueling with Martin Brundle. Usually gaining the upper hand, until a series of mistakes mid season allowed Brundle to catch ,and, at one point, pass Senna in the chamionship. Going into the last two races of the season Senna trailed Brundle bya single point. The first of these races was the Macau Grand Prix, a twisty circuit, not unlike Monaco. Was this a glimpse of what was to come in future years in Monaco ? Senna took pole, fastest lap, and won the race, so the championship would go to the last race of the season at Thruxton. Senna won the Thruxton race, thanks to new sidepods on his car, and some ingenious fiddling with the radiator, which allowed the car to warm up more quickly, but also meant that he had to remove a piece of tape from the oil radiator outlet mid-race ! Either way he won the race and the championship.

Meanwhile he tested a McLaren Formula 1 car, was offered a drive by the Brabham team manager, and before the year was out he had tested for and signed for Toleman for the 1984 Season.
---
Formula 1
A Year At Toleman

1984 saw Ayrton enter the arena that is Formula 1. He drove the Toleman-Hart TG183B. The car was seriously uncompetative, but Ayrton still managed to claim his first championship point at the Kyalami circuit in South Africa - in only his second race. Later the same year he came second in the wet around the streets of Monaco, although many thought at the time that the result had been fixed in favour of McLaren - the race was stopped because of bad weather while Alain Prost was leading, and Senna passed Prost just before the start/finish line, only to find that the result was taken as at the end of the previous lap. It didn't really matter; Senna had proven that he could drive with the best, even if he was denied his first win on that occasion.

At Zandvoort in August, two journalists appeared at the Toleman motorhome to ask about Senna's deal with Lotus for the 1985 season. This was a blow for the team since they were entertaining potential sponsors at the time. Ayrton ended the year 9th in the championship with 13 points.

During the year he had had his sole experience of Sportscar racing. He drove a Porsche 956 with Henri Pescarolo and Stefan Johansson at the Nurburgring. The car came home 8th, with a puncture, rain affected electronics, and clutch trouble.
---
The Lotus Years 1985-87

In 1985 Ayrton switched teams. He was snapped up by Lotus, at the time running a Renault engine. Portugal that year saw his first race win, and Belgium saw the second. He finished the year 4th in the championship with 38 points - not bad for his second year in Formula 1.

In 1986 he won two more races, in Spain and in the USA - one of only five USA grand prix held while Senna was racing. Again he finished 4th in the championship - this time with 55 points.

There was a change of engine in '87, as Lotus switched from Renault to Honda power. Ayrton stamped his authority on Monaco - He scored he first of six victories on the road circuit in Monte Carlo. He also won in Detroit, USA for the second time. In the championship he scored his best result yet - third with 57 points. But Senna had had enough. Lotus was not going to bring the championship, and he had discusions with Ron Dennis about driving for McLaren in 1988. Lotus signed up Nelson Piquet even before Senna had actually signed for McLaren, but his mind was made up anyway, and he would drive for McLaren the following year.
---
The McLaren Years 1988-93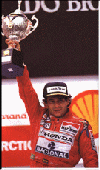 1988, a new year and a new team. The partnership with McLaren started, but it was not the best of starts. In the first race of the year, his home race in Rio, he put his McLaren on pole only to be disqualified during the race. He went on to vindicate himself though, with wins in San Marino, Canada, USA (his third victory in Detroit), Britain, Germany, Hungary, Belgium, and Suzuka. He also set fastest laps in Monaco, Canada, and Suzuka, and had Pole at all but France, Britain, and Portugal. He failed to finish at only two races - Italy, and Monaco, where he crashed while chasing team-mate Alain Prost for the lead. Not suprisingly he came away with 90 points and the championship at the end of the year.

In 1989 he won only six races. They were San Marino, Monaco, Mexico, Germany, Belgium, and Spain. He came second in the championship with 60 points.

1990 saw another chamionship come his way. Once again he won the first race of the year in the USA, but this time it was not in Detroit - Pheonix was the venue. The rest of the year was a mix of good and bad fortune. Ayrton secured 9 poles, 6 victories, and a further 5 podium finishes, but he failed to finish at the last three races of the year. This couldn't take the title from him though, as he took his second title with 78 points.

1991 was an awe-inspiring year - Senna had the edge, but the Williams of Nigel Mansell and Ricardo Patresse were also very strong. Senna took the first four races - he had pole and victory at each of them ! Among those victories were Pheonix - meaning that he had won all 5 of the USA grand prix in which he had competed, and Monaco - his 4th out of 5 at Monte Carlo. Ayrton then went 5 races without a pole or a win. Hungary was his next victory, and he had pole for that race too. He did the same for the next race in Belgium. His next victory though, was the last race of the year in Adelaide. He took his third championship with 96 points.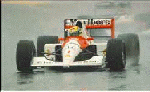 1992 was Mansell's year. The Williams FW14b was too strong for anyone to overcome that year. Nigel Mansell took 9 victories, along with countless fastest laps, and poles on his way to the championship. Senna was not without victory altogether though. He had only three, but one of those was Monaco. In my opinion one of the greatest races of all time. He held Mansell at bay for a number of laps at the end of that race - even though Mansell was setting fastest laps while sitting right behind him ! This was to be Senna's 5th victory in 6 races in Monaco. Senna came 4th in the championship that year with 50 points. He also had an Indycar test - I think with Penske - receiving a great deal of support from Emerson Fittipaldi, but decided against the move prefering to stay in Formula 1.

In 1993 there were two major changes in Formula 1. Mansell left for Indycar, and Alain Prost returned after taking a sabaticle. Prost joined Williams, and once again battle was done. Senna won 5 races (Brazil, Europe [at Donnington], Monaco, Suzuka and Adelaide), but he couldn't stop Prost taking the championship - and indeed nearly lost second place to Damon Hill in the second Williams. The last two races turned things round for him, winning them both gave him second place, and it left some good memories at McLaren, because this was his last year with the team that had given him 3 championships.
---
The Final Chapter 1994

In 1994 Ayrton joined the team that had taken the last two world constructors championships - Williams Renault. It had been his wish for some time, and he had started 1993 on a race by race contract at McLaren in the hope that he would get a seat with Williams after the start of the season. He scored no points in the three races he started in 1994, but he started each of them from pole, and surely would have had victory had he not crashed whilst in the lead at the San Marino grand prix. It was a crash that would take his life. All weekend there had been troubles - Rubens Barricello, Ayrton's coutryman, had crashed heavily on the Friday. Then on Saturday tradgedy struck as Roland Ratzenburger was killed after a high speed crash. Ayrton was bothered by this, and spoke with Nikki Lauda about the Grand Prix Drivers Association, and about trying to reform it. There was to be a meeting the following week about safety. The start of the race was also mared - a start line incedent left a number of spectators injured, and after the restart another accident in the pitlane left at least two mechanics injured. But this was not the worst. Ayrton himself was the victim of the worst incedent that weekend. As he rounded Tamburello on lap 7 something went wrong. Nobody knows what, it could have been the car, it could have been the track, it could even have been Ayrton - we shall probably never know - but the car went straight on, and hit the wall at around 160mph. Ayrton was gone and the world was robbed of a truely great racing driver.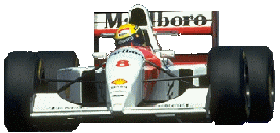 ---
TEXTE ET IMAGES RECUPERES SUR INTERNET PAR
Cédric / QueST



---
[Retour au sommaire]